Why Invest In High-Quality Branded Apparel?
Fall is just around the corner, and it is time to invest in high-quality branded apparel for the new season. Whether you are looking for a new look to give your employees or something to pass out at trade shows, you need an upgrade. You might have a mind to go the cheap route and buy a few boxes of cheap t-shirts, but that is NOT the way to go.
Why Do You Need Branded Apparel?
Branded apparel is a classic fixture of any successful marketing plan. Offering branded apparel is one of the best and easiest ways to get your customers excited about what you do. Make your offerings higher in quality so that everyone wears them more. The more they wear it, the more people see your brand!
Branded apparel is also perfect for the office. Whether in cubicles or on the store floor, give your employees a unified look while keeping them comfortable in the office.
Why Not Cut Costs and Buy Cheaply?
What you brand yourself on directly correlates to how you are perceived as a brand. If you have rinky-dink signage and marketing, then no one will take you seriously. Having cheap, uncomfortable branded apparel is just as important as having the right website. Both establish the reputability of your brand.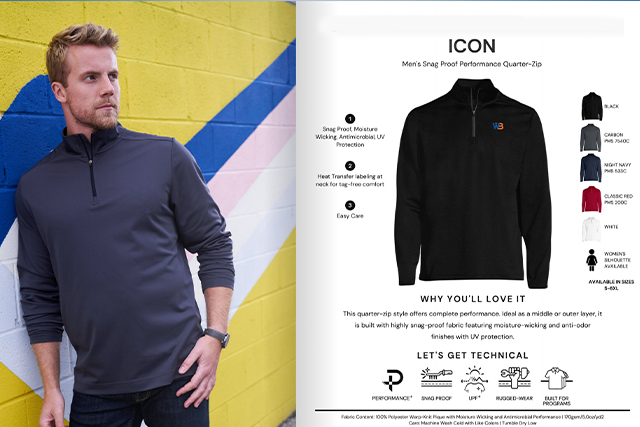 What To Buy
If you're stumped on what to buy, we have a lookbook for just that reason! This quarter-zip style offers complete performance. Ideal as a middle or outer layer, it is built with highly snag-proof fabric featuring moisture-wicking and anti-odor finishes with UV protection. The best part is that, with five colors, two cut styles, and specialized embossment, this sweater is fully customizable.
Take a look at our website for great and fully customizable products! https://wenningbranding.com.
Follow us!
Instagram- @wenningbranding
Facebook- @wenningbranding
https://wenningbranding.com/wp-content/uploads/2022/09/MM_9_19_Thumbnail.png
675
1200
wbsiteauthor
https://wenningbranding.com/wp-content/uploads/2023/06/WB_HEADER-LOGO_340x156.png
wbsiteauthor
2022-09-19 16:27:44
2022-09-19 16:27:46
Why Invest In High-Quality Branded Apparel?