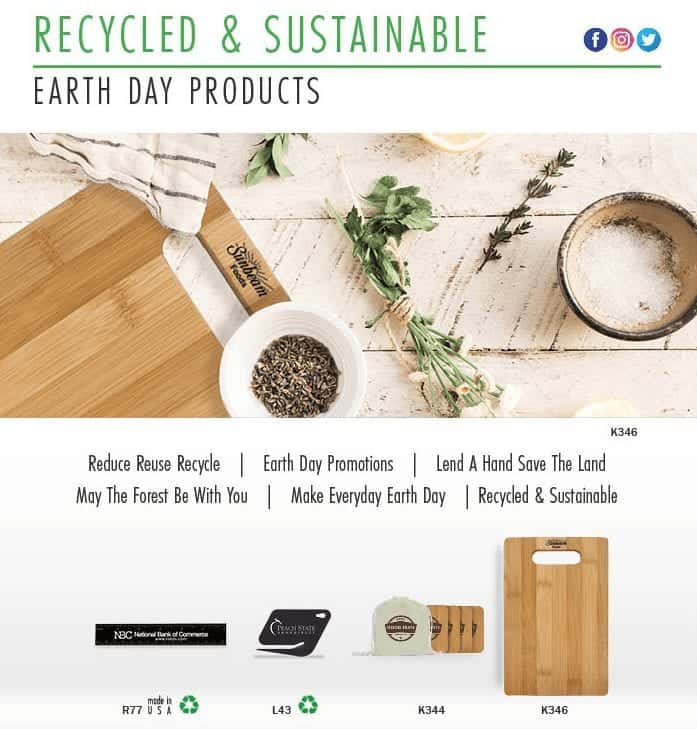 Recycled & Sustainable Earth Day Products
Lend a Hand and Save the Land!  Make Everyday Earth Day!
We want to wish everyone a Happy Earth Day!  Many people still believe that "green" solutions are too expensive, but they are actually much cheaper when all of the costs to public health, waste handling, and social services are all factored into the equation.
A good place to start is in the kitchen with the new Bamboo Cutting Board.  This cutting board will enhance the life span of all of your knives and counter tops.  This works for the toughest of kitchen assignments.  Comes in a variety of different colors due to natural occurrences.  Get your brand name or logo lasered into it for full customization. Made completely of bamboo, this is a great alternative to any plastic cutting boards that won't last as long as the wood one.  Why pay more for plastic, that won't last long, and will hurt the earth?  It's a no-brainer!
Also, we have the new Bamboo Coaster Kit that comes in a variety of different colors.  Comes in a linen bag that contains four bamboo coasters. Bamboo is extremely durable and resists moisture unlike any other material.  Save your surface from excess wear and tear that cans or bottles can damage. Cheap paper ones not only fall apart after being slightly wet, but they are hard to dispose of.  These will last you a lifetime and can even be customized with your brand name or logo laser printed right on them.
We live in a world that is full of problems, and we are the solutions that can resolve these problems. Change is never easy, but when people come together for the good of humanity and the Earth, then we can accomplish anything great we want.  If you have not already, start today and make a difference that will help preserve the Earth for people in the future.  It's not too late for us to change or ways and make a great impact.
https://wenningbranding.com/wp-content/uploads/2019/10/Screen-Shot-2019-04-19-at-10.44.23-AM.jpg
729
697
wbsiteauthor
https://wenningbranding.com/wp-content/uploads/2023/06/WB_HEADER-LOGO_340x156.png
wbsiteauthor
2019-04-22 00:00:00
2020-03-21 19:26:13
Recycled & Sustainable Earth Day Products