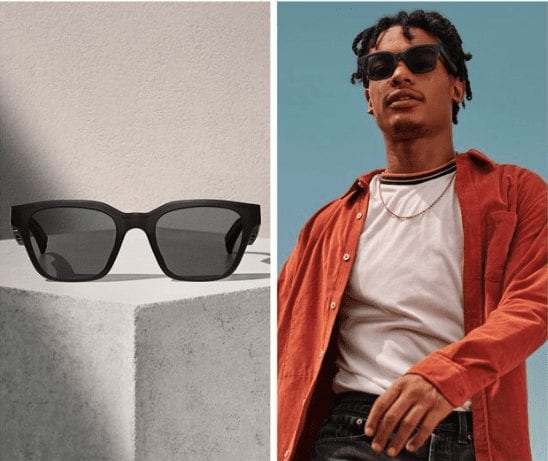 Bose Frames Audio Sunglasses
Bose Frames Audio Sunglasses
Even though summer is over, the sun is still up! Listen to your favorite tunes in style with the new Bose Frames Audio Sunglasses!
Have you ever had sunglasses playing your favorite soundtrack? The new sunglasses collection features two silhouettes with yes, built in speakers. The immersive audio experience that has never been done before.
With a quick glance they look like regular sunglasses but there's a hidden secret. The miniaturized electronics is the new hidden template in your everyday sunglasses. Made of metal hinges, nylon rims and the great quality that will last a life time. Lenses were also designed to be scratch and shatter proof just in case you drop them. The Bose frames are forged from quality materials that are as modern as the concept of it.
With the state if the art personal listening experiences is embedded into the classic design. Looks classic but sounds brand new. You hear a rich immersive sound while others will practically hear nothing at all. Having such a unique design, the custom speakers are directed right at you and away from others.
The most important part of the frames is how you feel when you wear them. Having the classic silhouettes will be suitable for anyone that wears sunglasses on a daily basis. Enjoy the great sounding speakers but also be able to keep in touch with what's going on around you. You get the best of both worlds with these great sunglasses.
The sunglasses come in a variety of different colors and are able to be customized to your preference. Don't forget to put that brand logo on them to show off how innovative your brand is. Perfect as a gift to your employees or raffle at any corporate events. Who wouldn't want to listen to their playlist in such a creative way?
https://wenningbranding.com/wp-content/uploads/2019/10/Screen-Shot-2019-10-01-at-1.30.20-PM.jpg
461
548
wbsiteauthor
https://wenningbranding.com/wp-content/uploads/2023/06/WB_HEADER-LOGO_340x156.png
wbsiteauthor
2019-10-07 00:00:00
2020-03-21 19:18:53
Bose Frames Audio Sunglasses