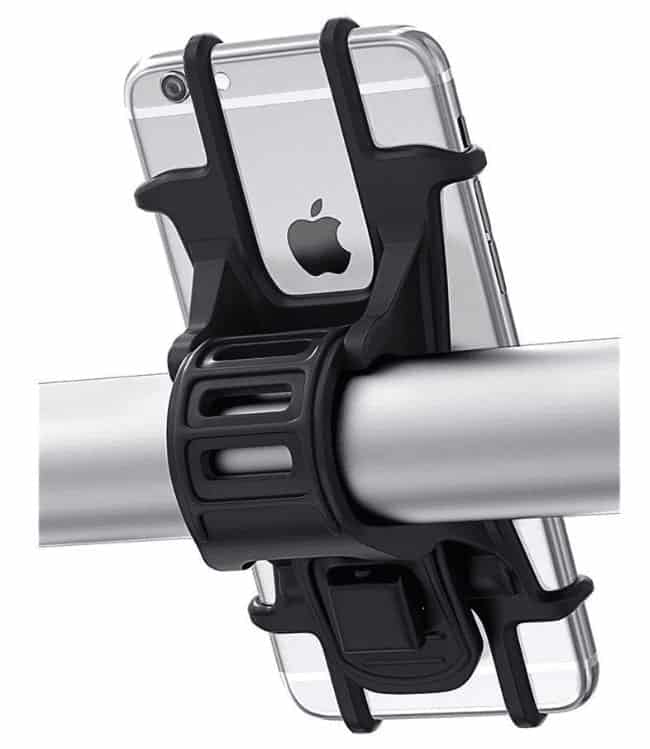 Silicone Phone Holder for Bicycle
Bring a cellphone on every biking trip by attaching it to the handle bars allowing the screen to be free so you can easily scroll, tap, and navigate through apps.
The Silicone Phone Holder is tailored to fit any modern-day smart phone with ease. Made of premium silicone, unlike the plastic ones, this one won't break on you. It holds the phone tightly with the silicone bands around the edges of the smart phone for those bumpy rides. This also allows the phone to stay in a set position so there is no shaking involved. The design was created to be water proof along with resistance to dirt. Easy to wipe clean and go on with that bike ride.
Being so flexible, the cradle clamp absorbs all the shock along with protecting the phone surface from scratches. Also, the phone holder gives you the ability to adjust the phone to any angle that will fit your preference. Never miss an important notification and keep track of those miles easier by always having a view of the screen. Out of the way and hands free, how could it get any easier than that?
Simply attach the phone holder within seconds to the handle bars for quick access when on the go. Perfect to use for outdoors or indoors: on the road, street bike, mountain trails, or even a stationary exercise bike. It also can be used to attach to strollers, wheelchairs and shopping carts giving you full access to use it wherever.
This is a great gift for anyone that loves to go biking all the time and wants to be able to take their phone with them. Coming in a variety of different colors gives you the opportunity to customize it however you please. Don't forget to put that custom brand logo or design on it to show off your company.
https://wenningbranding.com/wp-content/uploads/2019/10/Screen-Shot-2019-09-26-at-12.14.25-PM.jpg
749
650
wbsiteauthor
https://wenningbranding.com/wp-content/uploads/2023/06/WB_HEADER-LOGO_340x156.png
wbsiteauthor
2019-09-30 00:00:00
2020-03-21 19:19:01
Silicone Phone Holder for Bicycle