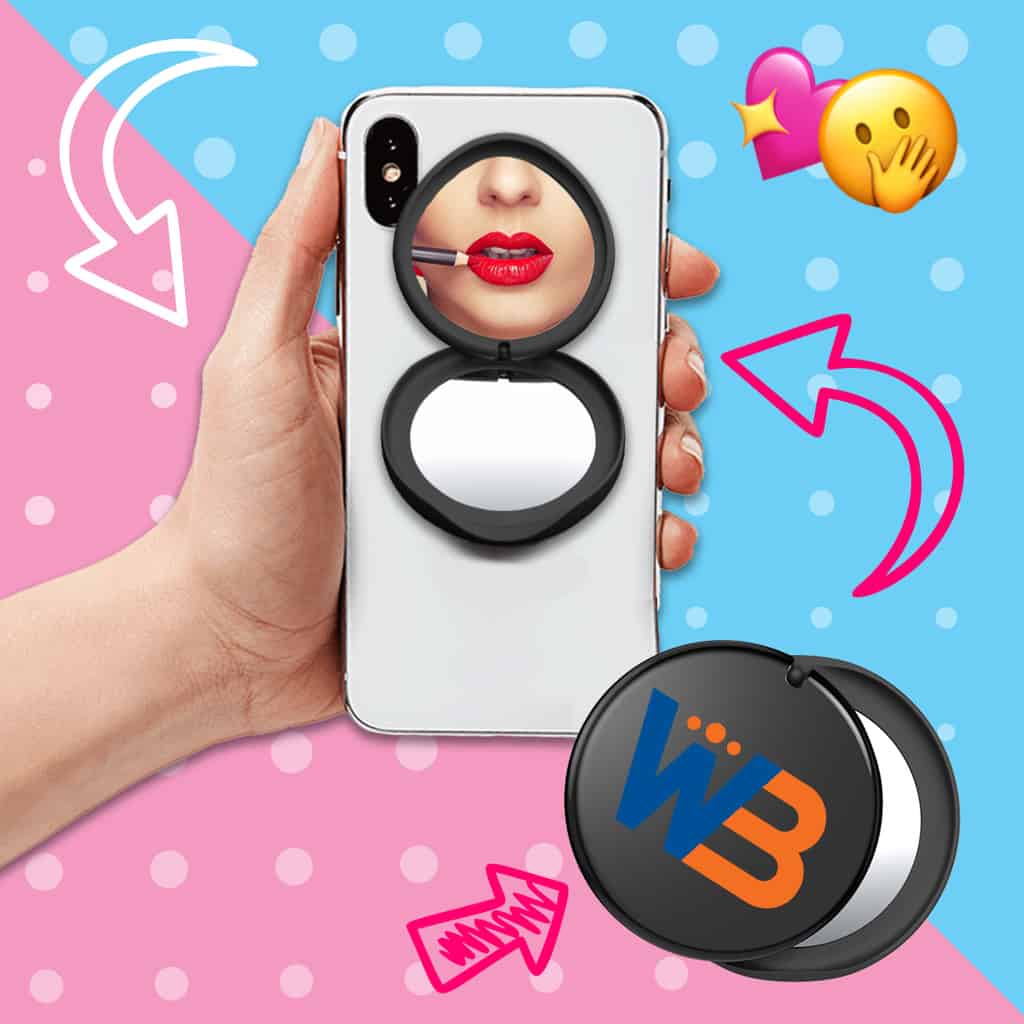 PopMirror for Cell Phone
Always have a mirror on you with the new PopMirror that attaches right onto a cellphone. Provides extra grip while holding it and also has two fully functioning mirrors in it.
The PopMirror has great style while having a great function. This PopMrror is swappable and close it flat to fit in your pocket or twist in a 90-degree angle. Swap out the top to a new poptop to allow wireless charging effortlessly. Never forget to bring a mirror with you ever again.
The PopMirror was designed to reflect you. Always have your best face forward with the new dual-purpose phone accessory. Comes with a swivel top mirror providing the standard reflection and easily collapsing flat. The base mirror offers 2x magnification for closer looks and a standard mirror on top. Designed for people that need to fix their makeup or just want to check their hair quickly. The mirrors is used for anything you'd like.
It will also help with a better grip on the phone to prevent future accidents resulting in a broken phone. Simply put your fingers around it while using the phone for a comfortable yet secure grip. Never fear again about dropping your phone or it slipping out of your hand because it is perfect for everyday use wherever you go.
Sticks onto any phone surface with ease with the sticky backside. Just peel back the protective sheet and apply it onto the phone and that's it! Once it is securely there, don't worry about it coming off easily. The PopMirror when extended out can and can also act as a phone stand for any flat table surface. This is great for at work at your desk or on a table to watch your favorite television shows.
Don't forget to customize it however you want with the multiple color options. You can even have your brand logo printed onto it to display your brand. The customization is endless and leaves you to make all the awesome choices. Perfect for an employee gift or given away at an event.
For more information check out our website:
https://wenningbranding.com/wp-content/uploads/2020/03/Branding_Pop_Mirror_02.jpg
1024
1024
wbsiteauthor
https://wenningbranding.com/wp-content/uploads/2023/06/WB_HEADER-LOGO_340x156.png
wbsiteauthor
2019-10-14 00:00:00
2020-03-21 19:18:43
PopMirror for Cell Phone