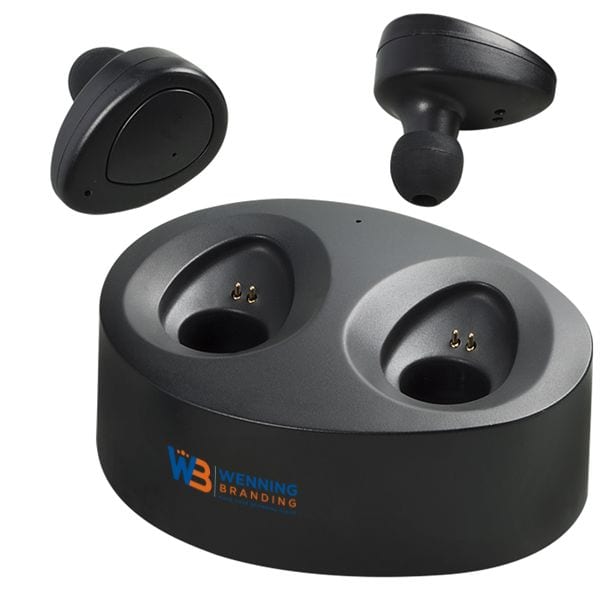 Wireless Bluetooth Headphones
The Wireless Bluetooth Headphones are a great way to increase brand recognition as well as, showing appreciation for employees & clients!
Everyone loves to listen to music, including your customers and employees. No matter if it's country, hip-hop, or classical, there is always a need for music on the go. Or, are you sick of changing the batteries in your headset? Well, with the Wireless Bluetooth headphone set you won't need to worry about any of those things. Step up the game when promoting your company by giving away these headphones. Between the quality, appearance and durability they will have employees and clients asking for them. By including your company's logo or emblem, the visuals will be showing off your company at all times!
Not only are these headphones portable, but the charging case is as well. Take these anywhere and always have them charged. There is up to a 30-foot range for these headphones so if you happen to step away from your phone you will not lose connection! Including a standard USB charging cable, you will be able to charge your power base practically anywhere. With a brandable charging port, it will put on quit the display when plugging in your headphones. Built out of a tough plastic, they will be durable and withstand the loud noise they produce.
When attempting to reach new, or current clients, there is no better way than proving a gift. These ear buds are a perfect gift for such that. Grab employee and client's attention quick as these powerful headphones will suit their needs. Perfect for listening to music, podcasts and even taking calls! These are the future, so stay up to date and grab your pair of Wireless Bluetooth Headphones. An ideal way to hand them out would be at a promotional event or as a curtsey gift. Especially targeting an audience that is interested in them, they will be sure to love the product.
https://wenningbranding.com/wp-content/uploads/2019/07/ProductImage-35.jpg
600
600
wbsiteauthor
https://wenningbranding.com/wp-content/uploads/2023/06/WB_HEADER-LOGO_340x156.png
wbsiteauthor
2019-07-10 00:00:00
2020-03-21 19:23:07
Wireless Bluetooth Headphones