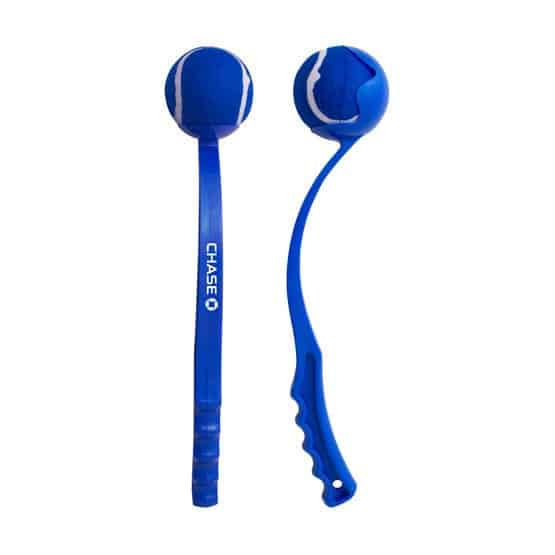 Want a great promotional product for your pet-related company? This exciting pet product, the tennis ball thrower, is perfect for that!
Does your arm ever hurt too much from playing fetch with your furry friend? And he or she is standing there waiting for another toss. With this great toy you will never let the pooch down again! Everyone knows the pain of throwing out your arm, and watching your happy pup get let down because fetch had to end early. This thrower gives an almost effortless motion to tossing the ball further than ever. As well as, the color you decide to choose for your product, will come equipped with a matching tennis ball.
This fun and exciting toy is a perfect product for pet centers, parks, fundraisers and many more. The thrower is made out of a flexible plastic to only create more whip for the tennis ball! Pull back and watch the ball launch and your pet go chasing! On the thrower you can put your custom logo on the arm, as well as pick between blue, red & yellow as the colors. If selected so, imprinting your logo on the tennis ball is an option as well. Next time you take your dog to the dog park, show off your new product as others will wish they had their own. The thrower is a little over a foot, while the tennis ball is the size of an average one. Making this essential tool very portable to bring anywhere.
https://wenningbranding.com/wp-content/uploads/2019/10/PET101-3334.jpg
555
555
wbsiteauthor
https://wenningbranding.com/wp-content/uploads/2021/08/WB_HEADER-LOGO_340x156.png
wbsiteauthor
2019-07-29 00:00:00
2020-03-21 19:21:09
Tennis Ball Thrower