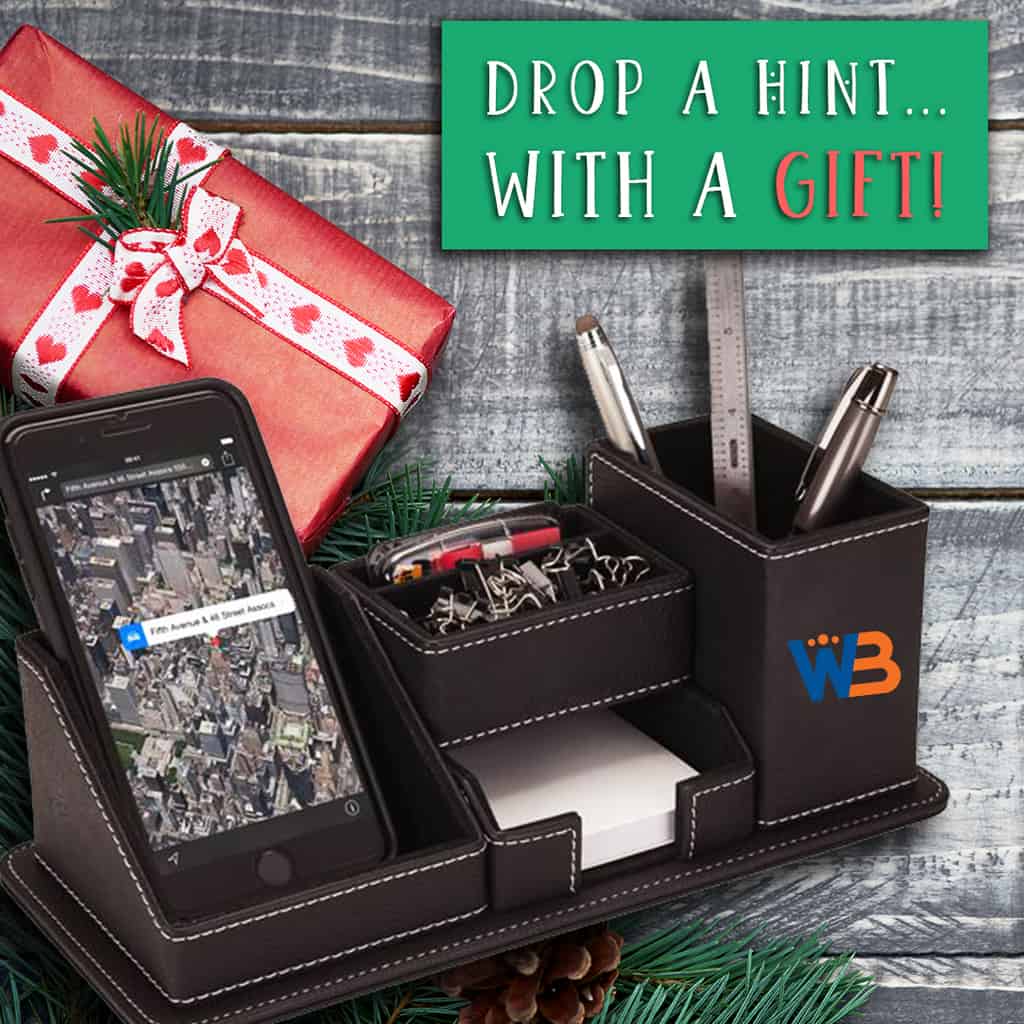 Wireless Phone Charging Desk Organizer
Wireless Phone Charging Desk Organizer
Christmas is only 58 days away, so it's time to start looking into gifts for your employees! Keep your workers tidy and organized with the new Wireless Phone Charging Desk Organizer!
Send a message to your employees to keep their work area neat and functional.  The organizer was designed to clear up desk space but still have all the necessities right in front of you. The Wireless Phone Charging Desk Organizer is stylish and very functional for any daily activities.  Made of premium leather, the wireless charging organizer has a classy business feel to it.  The leather is featured with white stitching along the edges to make it more durable.
The organizer has a pen holder, two accessory compartments and a 100-page notepad slot.   There compartments are for items such as tacks, paperclips or other small items you don't want to misplace. It also has a spot just for your phone that allows wireless charging right away!  There is an integrated cut out to run your charging cord through it keeping a clean look. The cord is hidden away so that there is still the clean appearance for your desk. Wireless charging brings the greatest form of charging experience that avoids those ugly wires and cable disconnection. This charging port is compatible with any  phones whether it is Galaxy or Apple. Who wouldn't want this for their desk or for everyday use?
Stop waiting around and looking for the perfect gift for your employees when it is right in front of you.  The leather comes in a couple different colors along with the stitching. Customize is however you want with the countless amount of options. Also, don't forget to put your custom brand logo on it or any type of writing.  Christmas is right around the corner and the shipping process takes time.
4 In 1 USB Charging Cable
https://wenningbranding.com/2019/10/4-in-1-usb-charging-cable/
For more information check out our website:
https://wenningbranding.com/wp-content/uploads/2020/03/Desk-Organizer_01.jpg
1024
1024
wbsiteauthor
https://wenningbranding.com/wp-content/uploads/2023/06/WB_HEADER-LOGO_340x156.png
wbsiteauthor
2019-10-28 00:00:00
2020-03-25 16:25:04
Wireless Phone Charging Desk Organizer